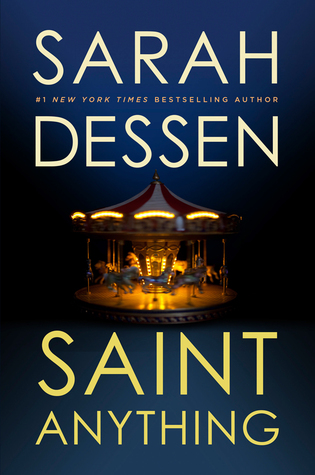 SAINT ANYTHING by Sarah Dessen
Published: May 5, 2015 by Viking Juvenile
Format: Kindle e-book
Pages: 432
Peyton, Sydney's charismatic older brother, has always been the star of the family, receiving the lion's share of their parents' attention and—lately—concern. When Peyton's increasingly reckless behavior culminates in an accident, a drunk driving conviction, and a jail sentence, Sydney is cast adrift, searching for her place in the family and the world. When everyone else is so worried about Peyton, is she the only one concerned about the victim of the accident?
Enter the Chathams, a warm, chaotic family who run a pizza parlor, play bluegrass on weekends, and pitch in to care for their mother, who has multiple sclerosis. Here Sydney experiences unquestioning acceptance. And here she meets Mac, gentle, watchful, and protective, who makes Sydney feel seen, really seen, for the first time.
This book has been sitting unread on my Kindle since it was released. I started it multiple times but was never in the mood to continue reading. Until I found myself in a place with no WiFi and no 4G (at the end of the world) and needed something to read.
I've read several Sarah Dessen books and always found them perfectly good summer reads. Nothing extraordinary but never a disappointing read, and Saint Anything fell right into that category. There is nothing particularly noteworthy about this book. I enjoyed the characters and their development, something Sarah Dessen absolutely excels at. But in terms of story and romance, it was lacking.
I would recommend this book to anyone who is looking for a quick read in the sun, but not so much if you're looking for something more.